Department of Chemistry
University of Illinois at Chicago
Chicago IL 60607
Research Overview
Research in the Lorieau group integrates Biophysics, Physical Chemistry, Structural Biology and Biochemistry in elucidating the interplay between biomolecular structure, dynamics, chemistry and function.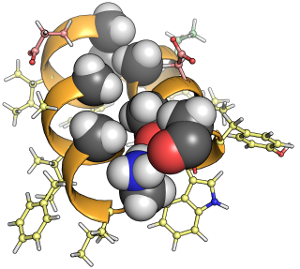 With a combination of solution- and solid-state Nuclear Magnetic Resonance spectroscopies, computational tools and other biophysical methods, our research focuses on membrane protein structure and dynamics, membrane protein biochemistry, the development of theory and techniques to enhance the precision and resolution of structural and dynamic information by NMR, and the investigation of molecular dynamics as it relates to enzymatic catalysis and kinetics.
Membranes and Membrane Proteins
High-Resolution NMR Methods Development
Solution and solid-state NMR report detailed information on the distribution of electrons, the distances between atoms and the dynamics of molecules at the atomic level. We investigate new methods to increase the resolution of NMR structures, molecular dynamics and the distribution of conformation ensembles.